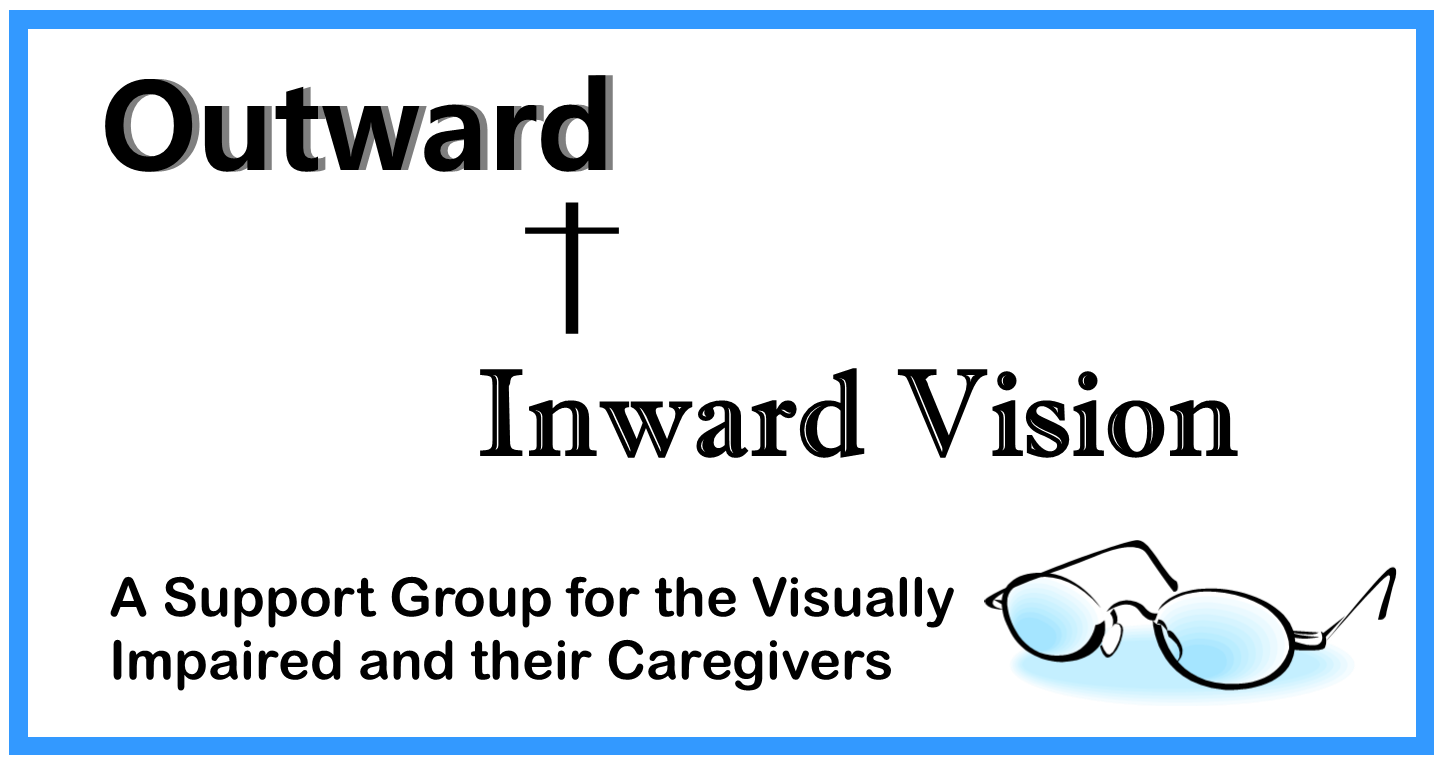 Outward Vision Inward Vision Support Group for the Visually Impaired meets the 2nd Thursday of each month from 1:00-2:15pm in Room 23.
Upcoming Programs of 2018

August 9th – 1:00 – 2:30
Mary Erwin will be our speaker. Mary has been a Vision Rehabilitation Therapist in Montgomery for nearly a year. She was a registered Nurse, before becoming legally blind. She still holds her certification as an RN. She possesses a Bachelor's Degree in Psychology, and a Master's Degree in Visual Disabilities. Mary will share some leisure time activities with the group when she speaks in August.
September 13th – 1:00 – 2:30
No speaker. We will be preparing for White Cane Day on September 29 and for our Day Camp coming in the fall (date still to be determined).
Saturday, September 29th - 9:00 – 1:00
White Cane Day - Kick-off at State Capitol – Walk/Ride to Riverfront
October ? (TBA) - Day Camp
Day Camp will be a new experience for us. We will spend two days together (10:00-2:00) learning independent living skills and experiencing technology, mobility and guide dogs, fun activities and good food. Aiming for Oct 10 & 11.
November 8th – 1:00 – 2:30
Lilly Henderson-Harold will be our speaker. On March 6, 1976, at the age of 10 Lilly fell sick. She was rushed to the hospital in Troy where polio was diagnosed. She never walked again. Today she breathes 24-7 via a ventilator connected by a tracheotomy tube. In spite of her handicaps, Lilly graduated Magna Cum Laude from Troy State University and received a Master's degree in Education (emphasis on Rehabilitation Counseling) from University of Alabama at Birmingham. She was crowned Miss Wheelchair Alabama 1980-81. On the 8th Lilly will share from her 2 books, stories from her life and accessibility issues that she was involved with when working with the State and the Governor's Office on Disability.
December 13th – 1:00 – 2:30 | A Christmas Party